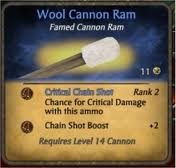 The Wool Cannon Ram is a famed cannon ram, it has a critical Chain Shot, this means aiming at sails and masts with this ram will be very powerful, it applies to the hull too; It has a +2 on the Chain Shot causing your Critical Shot to be even more critical, this is easily found in a round of Cannon Defense or looting from fishing.
Cannon Ram, Famed
Abillites: Critical Chain Shot (1), Chain Shot Boost (1)
Cost: Can only be found in loot.
Resale: 11 Gold
Level: Cannon Ram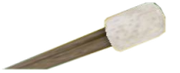 Looting Tip
Edit
Pencil Boy found his from an Angler in fishing around Padres Del Fuego, try for it in the bigger fish and also after wave 26 in Cannon Defense.