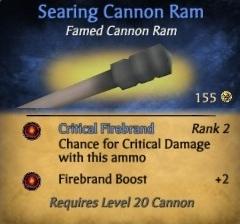 The Searing Cannon Ram is a famed cannon ram that have a boost to firebrand and with Critical Firebrand. It is best to find it at Cannon Defense. This is a GREAT cannon ram if you ever rely on Firebrand.
Abilltes: Firebrand (2) Critical Firebrand (2)
Level: 24 cannon
Resale: 155
Cost: Can only be found in loot and Cannon Defense
Looting Tips
Edit
If you want this awesome Cannon Ram, try Cannon Defense; or you can try fishing at Padres Del Fuego. (On a boat not on the docks).