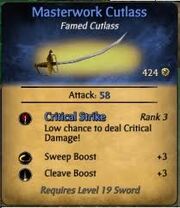 The Masterwork Cutlass is a powerful famed weapon with Critical Strike, also Sweep Boost and Cleave Boost, all rank of these boosts are rank 3. This entire Masterwork Series is great for a pirate that is looking for skill boosts and a great critical strike. One of our members had an entire critical combo.
Attack: 58
Critical Strike: Rank 3 Sweep: Rank 3 Cleave: Rank 3
Level: 19 Sword
Resale: 424 Gold
Cost: Can only found in loot.