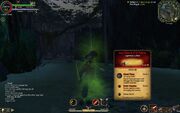 The Lost Sword of El Patron is an incredibly powerful Legendary (non-cursed) Cutlass, made of Gold! El Patron's own sword, it was thought to be lost but was recently rediscovered among other weapons in his large cache of weapons. It was the first Legendary weapon, and formerly the strongest sword, though not the strongest weapon: the Fullmoon Special Blunderbuss has a higher attack. Is extremely powerful weapon appears to be bejeweled on the hilt and have a blade made of gold. It is the only weapon with the Ghost Form Skill, which is on rank three, which turns you into a ghost for a short time and makes you take half damage from ranged and close-up attacks, though it is similar to the Dark Curse Skill, found on Treachery's End, The Dark Mutineer, and the mighty Behemoth Blade. It also has Voodoo Damage on a powerful rank three, allowing you to steal your enemies' Voodoo, and a significant boost to sweep (+3). It also has the highest sell price for any weapon in-game. It is the only Legendary non-cursed Blade at the time.
Attack: 84
Abilities: Ghost Form Rank (3), Voodoo Damage Rank (3), Sweep Boost(+3)
Community content is available under
CC-BY-SA
unless otherwise noted.