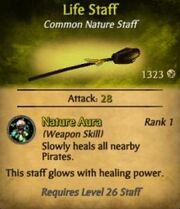 The Life Staff is a powerful common Nature Staff. You must be level 26 staff to use this weapons power, and it has Nature Aura, which slowly heals all nearby pirates. Its the strongest common staffs, along side Death Staff.
Attack: 28
Nature Aura 1
Level: Staff 26
Resale: 1,323 Gold
Cost: Can be bought from a Gypsy.
"This staff glows with healing power."