The Grenade is the fourth weapon quest you take. You can throw these to cause damage, It gives little reputation for being so powerful. There are 5 (Five) Ammo types. Normal, Stink Pot, Fire, Smoke and Siege Charge, Siege Charge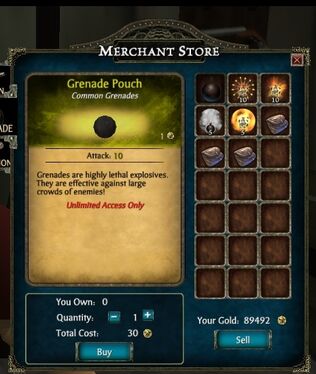 is said to be the best for killing groups. If throwing grenades too close, you will damage yourself, also a tip. Don't throw Smoke Bombs at close range, you will blind the group causing it hard to attack.
Rarity: Common
Abilities: None
Cost: Quest Only (Can be bought back in store)
Resale Value: 1
Adds 8HP per level.
Looting TipsEdit
This is a TERRIBLE weapon to loot with because it's so powerful, do NOT loot with this unless you're trying to level up your grenades or aren't concerned about loot.