General Darkhart is a very notorious boss on the west side of Padres Del Fuego in Las Pulgas. Known for gi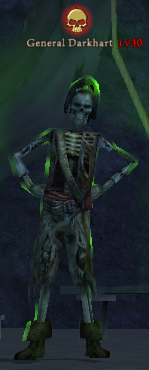 ving many (but very randomly) Famed items and massive Gold amounts and frequent Loot Skull Chests, General Darkheart, commonly referred to as "Darkhart", or just simply "Dark" some also call him
Dark Fart
and sometimes "Hart", is a well-known looting spot, whom nearly always has at least one person looting at him (so don't be surprised if you find other people there, just try to find a quieter server), so don't get frustrated if trying to loot alone. Sometimes you can even meet new friends there. It is a good idea to loot with another person because that way you have someone talk to and can still enjoy looting peacefully. It is an excellent place to loot for the
Seven Seas Cutlass
,
Lost Sword of El Patron
,
Silver Freeze
, and a numerous amount of swashbucklers have found theirs here. He is a permanent boss, and is always seen in the same spot near Powder-Burnt Pete and Sven Thorhammer's shops. He is the strongest Undead Boss and is seen at levels 28-35.
There are two (2) glitches with General Darkhart:
If you stand back against the Gunsmith's building Darkhart will pull out a sword maybe and he can't attack until he switches back to his Dagger.
If you stand on the porch next to the Gunsmith building, you can use a ranged weapon to attack Darkhart; This is also a great way to train Weapons.