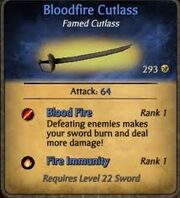 The Bloodfire Cutlass is a Famed Cutlass with the Blood Fire ability. As you defeat more enemies your blade will catch on fire and awaken it's true power with the more blood spilled. It is immune to every fire attacks making this a good sword to have on hand for any pirate, some prefer the Bloodfire Broadsword although. The Bloodfire Cutlass has been known to be hard to find, making it all the more fun to try and find and get!
Attack: 64
Abillites: Blood Fire (Rank 1), Fire Immunity (Rank 1)
Level: Sword 22
Resale Price: 293 Gold
Cost: Can only be found in loot.
Member of the Bloodfire Series.
Since this isn't a cursed blade, you can find the Bloodfire Broadsword anywhere; try looting at Jacques le Blanc or Tomas Blanco.
Community content is available under
CC-BY-SA
unless otherwise noted.