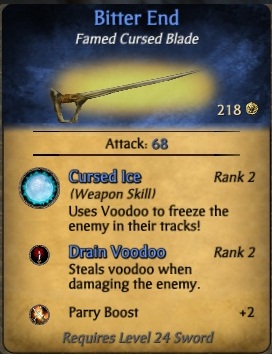 Bitter End
Edit
Bitter End is a powerful Famed Cursed Sabre, with Cursed Ice, Drian Voodoo and Parry boost. This blade was part of El Patron's collection of cursed weapons, Although it can be found along with Spinecrest Blade and Nautilus Blade in the Raven's Cove Story Quest; Bitter End can also be found in loot. Like every other cursed blade, it has a black shadow that follows it after every swing.
Attack: 68
Abilities: Cursed Ice (Rank 2), Drain Voodoo (Rank 2), Parry (+2)

Level Required: 24

Resale Value: 218 Gold
Cost: Can only be found in loot in Raven's Cove or Isla Tormenta, or Raven's Cove story quest.