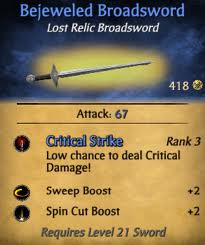 The "Bejeweled Broadsword" is a Famed Broadsword. It has the Criltical Strike with Sweep and Spin Cut as a boost. It requires a level 21 Sword to handle.
Attack: 67
Abilities: Critical Strike (Rank 3), Sweep Boost (Rank 2), Spin Cut Boost (Rank 2)
Level: 24 Sword
Resale Value: 418 Gold
Cost: Can only be found in loot.
Member of the Bejeweled Series.