The Admiral's Cutlass is a powerful and rare sword to find. The lucky wielder of this magnificent sword should be feared it has a severe Thrust Boost and Endurance Boost.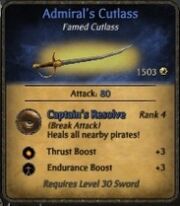 Attack: 80
Abillites: Captain's Resolve (4), Thrush (3), Endurance (3)
Level: 30 Sword (Mastered)
Resale: 1,503 Gold
Cost: Only can be found in loot at sea.